The Capitol
Arts Center
About
The Capitol Arts Center has entered the next chapter in its long history of providing a place for south central Kentucky residents to enjoy the arts. Listed in the National Register as a contributing site in the Downtown Bowling Green Commercial District the Capitol is owned by Warren County, and now operates under the management of Warren County Public Library. The Capitol hosts touring performances, concerts, weddings, receptions, and a variety of community events. For more information about events, rentals and more contact the Warren County Public Library, visit their website https://warrenpl.org/capitol/ or call 270-904-6040.
History
The Capitol Arts Center has been an important part of the cultural fabric of Bowling Green for over 100 years. Begun as a vaudeville house in the late 1890's, then was renamed the Columbia Theatre and finally was redesigned as a movie house in the mid-1930's renamed the Capitol Theatre which presented movies for more than three decades before closing in 1967.
After remaining vacant for more than 10 years, the building was purchased in 1977 by a visionary group of citizens formerly known as the Bowling Green-Warren County Arts Commission. Following a $1.3 million renovation, the Capitol Arts Center opened its doors to the community in September 1981 and was managed by the Capitol Arts Alliance for 30 years.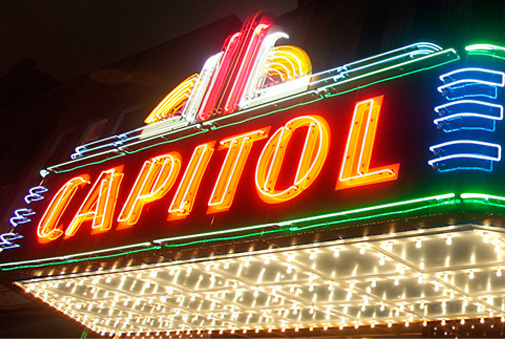 The Capitol Arts Center Address:
416 East Main Street
Bowling Green,
KY
42101
Mailing Address:
P.O. BOX 748
Bowling Green,
KY
42102
Main and Ticket Office: 270-904-6040
Complimentary Parking is provided by John Ridley during evening events at the Capitol Arts Center. The parking lot is located behind The Pushins Building and the Capitol Arts Center building and can be accessed off of College Street. There are 59 spaces provided and limited to a first come basis.
The Capitol Arts Center is located at 416 East Main Street on the north side of fountain square park.